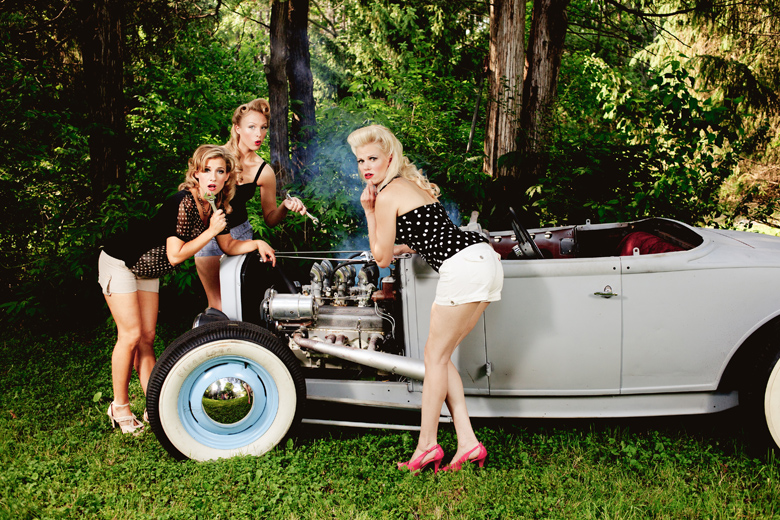 Boudoir photo shoots are all the rage with wedding photography packages, but what if that seems a little too daring?  A Pinup shoot is a perfect alternative!  Pinup models in the 1940s and 50s had a certain je ne sais quoi.  You were sure to be struck by the perfect balance of playfulness wrapped around a sex-kitten in a bombshell package!  A little naughty, a lot nice, and timeless nonetheless.
Onsite Muse Hair & Makeup Artists
 are known far and wide for our expertise in vintage hair styling and makeup. Yes, we can rock ANY modern trend as well, but when someone needs a "time-period specific" look, they call on us.  We make it easy to feel glamorous.
Pinup styling is a specialty!  The key is to pair the gorgeous, structured hair styles with flawless, airbrushed makeup and faux-lashes.  We make it easy to feel glamorous!

-Kira McCarty
 What works:
Pinup shoots are supposed to be fun:  SMILE!  No pressure to "look sexy" – The total look is naturally sexy!
Say your vowels! "O" "E" "A" "U" These little letters will give you the perfect "bombshell" expressions!
No need to spend a TON of money on new outfits – Simple shorts, heels, and a halter will work fabulously!
Go big or go home = Get a giant flower or flowers for your hair!
Hot red / pink / or coral lipstick will help you feel gorgeous
"Cat eye" gel or liquid liner helps complete the look!
Remember:  With our help, you too could look like this!
Your Onsite Muse Hair & Makeup Artist
Professional Hair & Makeup